Nashville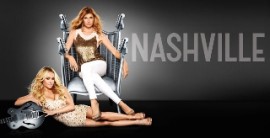 Nashville airs on Wednesdays at 10/9c on ABC.
Original run: 2012 - present
Network: ABC
Genre: Drama
TV Watch U.S. prediction: Certain Cancellation
Synopsis (also check out the trailer below):
Rayna Jaymes (Connie Britton) is a best selling country singer of declining fame. Her record label suggests that she opens for the much younger Juliette Barnes (Hayden Panettiere), bubble gum country singer and teen idol. Rayna and Juliette dislike each other and Rayna rejects the offer. Both women want to sign guitarist Deacon Claybourne (Charles Esten), Rayna's bandmate and former lover, on their tour, which causes even more friction.