Modern Family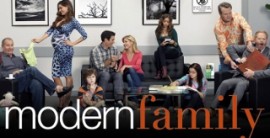 Modern Family airs on Wednesdays at 9/8c on ABC.
Original run: 2009 - present
Network: ABC
Genre: Comedy
Official decision: Renewed
Synopsis (also check out the trailer below):
Modern Family is a mockumentary style comedy series revolving around Jay Pritchett (Ed O'Neill) and his much younger second wife Gloria (Sofia Vergara). Jay's has a 10-year old stepson and two grown children; Claire, a housewife and mother of three, and Mitchell, gay lawyer adopting a Vietnamese baby. Together, they truly are a Modern Family.