Castle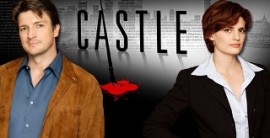 Castle airs on Mondays at 10/9c on ABC.
Original run: 2009 - present
Network: ABC
Genre: Drama
TV Watch U.S. prediction: Likely Cancellation
Synopsis (also check out the trailer below):
Richard Castle (Nathan Fillion) is a famous novelist who gets into contact with detectives from the NYPD after being questioned by them because of copy-cat murders based on his novels. Castle is intrigued by this side of crime and is allowed to shadow Detective Kate Beckett (Stana Katic). Castle uses Beckett as model for the main character of his new book.