Bordertown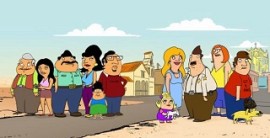 Bordertown airs on Sundays at 7/6c on FOX.
Original run: 2016 - present
Network: FOX
Genre: Comedy
TV Watch U.S. prediction: Likely Cancellation
Synopsis (also check out the trailer below):
Bordertown centers on Bud Backwald, a Texas border agent with three children and Ernesto Gonzales, an immigrang from Mexico who is happy to be with his family int he United States. The sitcom is produced by Seth MacFarlane.