The Millers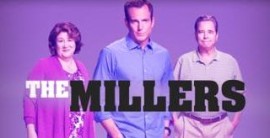 The Millers has concluded its run after 2 seasons.
Original run: 2013 - 2015
Network: CBS
Genre: Comedy
Synopsis (also check out the trailer below):
The comedy The Millers revolves around divorced newscaster Nathan Miller (Will Arnett). Encouraged by his divorce, Nathan's father (Beau Bridges) decides to file for divorce as well. The result is that Nathan's mother (Margo Martindale) moves in with Nathan, and his father moves in with his sister.
Next episode:
- No next episode -