Forever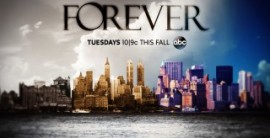 Forever has concluded its run after 1 season.
Original run: 2014 - 2015
Network: ABC
Genre: Sci-Fi and Fantasy
Synopsis (also check out the trailer below):
Forever stars Ioan Gruffudd as Doctor Henry Morgan, New York City's star medical examiner. His secret is that he does not only study the deceased to solve their murders, but also to investigate his own inexplicable immortality. The 200 years he has been living so far have given him remarkable observational skills, which impress his new partner Detective Jo Martines (Alana De La Garza). The story will be presented in a procedural style, while slowly exploring Dr. Morgan's secret.
Next episode:
- No next episode -