The Good Wife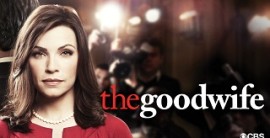 The Good Wife is on hiatus. It returns on Sunday, April 17th at 9/8c.
Original run: 2009 - present
Network: CBS
Genre: Drama
Official decision: Cancelled
Synopsis (also check out the trailer below):
Alicia Florrick's (Julianna Margulies) husband Peter (Chris Noth) is a former Cook County State's Attorney but has been jailed after a very public sex and corruption scandal. In order to provide for her two children Alicia has to go back to working as a lawyer after being a stay-at-home mom for thirteen years.