Suburgatory
Suburgatory has concluded its run after 3 seasons.
Original run: 2011 - 2014
Network: ABC
Genre: Comedy
Synopsis (also check out the trailer below):
George Altman (Jeremy Sisto) is a single father who wants to give his daughter Tessa (Jane Levy) a better life. He decides to get away from the city and moves to the suburbs. After arriving in their new neighborhood Tessa starts to wonder if she entered the world of The Stepford Wives. Everything seems to be too perfect to be real.
Most recent episode: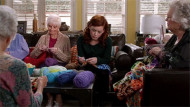 S3E13 - May 14th, '14Stiiiiiiill Horny
Next episode:
- No next episode -