Elementary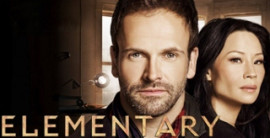 Elementary airs on Sundays at 10/9c on CBS.
Original run: 2012 - present
Network: CBS
Genre: Drama
Official decision: Renewed
Synopsis (also check out the trailer below):
Elementary is an updated version of Sir Arthur Conan Doyle's original Sherlock Holmes (here portrayed by Jonny Lee Miller) set in modern-day New York City. Holmes, a former Scotland Yard consultant, moved to New York City after rehab. Dr. Joan Watson (Lucy Liu) is hired to be Holmes sober companion, helping him to remain abstinent after being released from rehab. Holmes starts to work for the NYPD as a consultant detective and Watson becomes his apprentice.