Unforgettable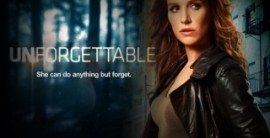 Unforgettable has concluded its run after 4 seasons.
Original run: 2011 - 2016
Network: A&E
Genre: Drama
Synopsis (also check out the trailer below):
The first three seasons of Unforgettable aired on CBS, before it moved to A&E. The main character of Unforgettable is Carrie Wells (Poppy Montgomery), a former detective with hyperthymesia, a rare medical condition which gives her the ability to visually remember everything she's ever experienced. There is one thing Wells is unable to remember, the face of the person who murdered her little sister. Wells joins the homicide department of the New York City Police Department after her former boyfriend asks for her help on a case. This allows her to continue her hunt for the murderer of her sister.
Next episode:
- No next episode -