The Magicians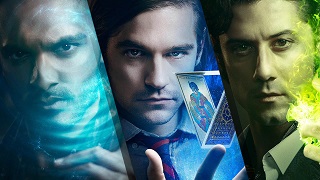 The Magicians is in between seasons. It is currently unknown when season 2 will premiere.
Original run: 2015 - present
Network: Syfy
Genre: Sci-Fi and Fantasy
Synopsis:
The Magicians revolves around Quentin Coldwater (Jason Ralph, Aquarius), a brilliant student who enrolls in a secret upstate New York university that specializes in all things magic. Coldwater and his friends soon discover that the magical fantasy world they read about as children is actually real, and poses a great threat to humanity.
Most recent episode:
S1E13 - Apr 11th, '16Have You Brought Me Little Cakes
Next episode:
- No next episode -