Satisfaction
Satisfaction has concluded its run after 2 seasons.
Original run: 2014 - 2015
Network: USA Network
Genre: Drama
Synopsis (also check out the trailer below):
Neil (Matt Passmore) and Grace Truman (Stephanie Szostak) have it all: They are the perfect couple, he is a successful investment banker, and they have a nice home in the suburbs. However, the one thing their lives miss is excitement. Satisfaction takes a look at modern marriage, and chronicles the unconventional decisions this couple makes in order to keep their marriage alive.
Most recent episode: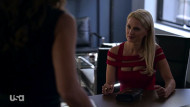 S2E10 - Dec 18th, '15...Through New Beginnings
Next episode:
- No next episode -