Ray Donovan
Ray Donovan is in between seasons. Season 4 premieres on Sunday, June 26th.
Original run: 2013 - present
Network: Showtime
Genre: Drama
Synopsis (also check out the trailer below):
Ray Donovan is a drama series about Ray Donovan (Liev Schreiber), a fixer for the rich and famous. As a fixer he makes the problems of people disappear. Donovan can handle any problem, except for his own. Donovan set his father up to go to prison, but his father has unexpectedly been released.
Most recent episode: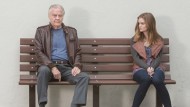 S3E12 - Sep 27th, '15Exsuscito