Penny Dreadful
Penny Dreadful is in between seasons. Season 3 premieres on Sunday, May 1st at 10/9c.
Original run: 2014 - present
Network: Showtime
Genre: Sci-Fi and Fantasy
Synopsis:
Penny Dreadful is a horror series covering the origin stories of several fictional historical characters such as Dr. Frankenstein and characters from the novel Dracula. The series shows Vanessa Ives (Eva Green) as she enlists the help of sharpshooter/actor Ethan (Josh Hartnett) to help her and Sir Malcolm Murray (Timothy Dalton) to find Mina Murray, Sir Malcolm's missing daughter.
Most recent episode: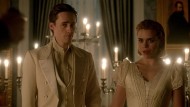 S2E10 - Jul 5th, '15And They Were Enemies