Murder In The First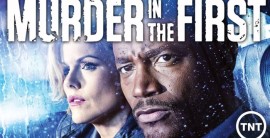 Murder In The First is in between seasons. Season 3 premieres on Sunday, June 19th at 10/9c.
Original run: 2014 - present
Network: TNT
Genre: Drama
Synopsis (also check out the trailer below):
Murder In The First centers on San Francisco homicide detectives Terry English (Taye Diggs) and Hildy Mulligan (Kathleen Robertson) as they investigate two unrelated murders. However, they find out both victims have ties to a celebrated Silicon Valley CEO (Tom Felton).
Most recent episode:
S2E12 - Aug 24th, '15Number Thirty Nine