Homeland
Homeland is in between seasons. It is currently unknown when season 6 will premiere.
Original run: 2011 - present
Network: Showtime
Genre: Drama
Synopsis:
While in Iraq, Carrie Mathison, a Central Intelligence Agency operations officer, had been warned by an asset that an American prisoner of war had been turned by al-Qaeda. After conducting an unauthorized operation in Iraq, Carrie is put on probation and reassigned to the CIA's Counter-terrorism Center in Langley, Virginia.
Most recent episode: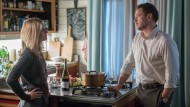 S5E12 - Dec 20th, '15A False Glimmer