Blunt Talk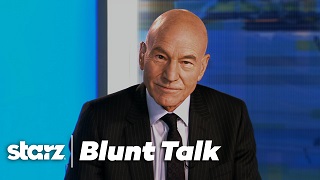 Blunt Talk is in between seasons. It is currently unknown when season 2 will premiere.
Original run: 2015 - present
Network: Starz
Genre: Comedy
Synopsis (also check out the trailer below):
Blunt Talk is a character-driven comedy revolving around Walter Blunt (Patrick Stewart), a British transplant intent on conquering the world of American cable news. Through the platform of his nightly interview show, Blunt is on a mission to impart his wisdom and guidance on how Americans should live, think and behave. Besieged by network bosses, a dysfunctional news staff, numerous ex-wives and children of all ages, Blunt's only supporter is the alcoholic manservant he brought with him from the U.K. to join him in Los Angeles. The series follows the fallout from Blunt's well-intentioned, but mostly misguided decision-making, both on and off the air.
Most recent episode:
S1E10 - Oct 24th, '15Let's Save Central Florida! Let's Save Midtown!
Next episode:
- No next episode -