Billions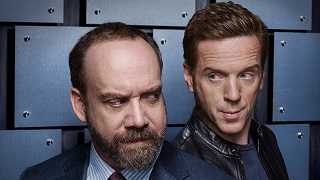 Billions airs on Sundays at 10/9c on Showtime.
Original run: 2016 - present
Network: Showtime
Genre: Drama
Synopsis (also check out the trailer below):
The financial drama Billions tells the story of power politics in the Manhattan world of high finance, and stars Damian Lewis and Paul Giamatti. It chronicles the collision between U.S. attorney Chuck Rhoades (Giamatti) and hedge fund king Bobby Axelrod (Lewis). Co-starring are Malin Akerman and Maggie Siff as the men's respective wives.
Most recent episode:
S1E12 - Apr 10th, '16The Conversation
Next episode:
- No next episode -