American Horror Story
American Horror Story is in between seasons. It is currently unknown when season 6 will premiere.
Original run: 2011 - present
Network: FX
Genre: Sci-Fi and Fantasy
Synopsis:
American Horror Story is a horror-drama television franchise created and produced by Ryan Murphy and Brad Falchuk. Described as an anthology series, each season is conceived as a self-contained miniseries, following a disparate set of characters and settings, and a storyline with its own "beginning, middle and end".
Most recent episode: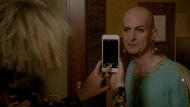 S5E12 - Jan 13th, '16Be Our Guest
Next episode:
- No next episode -