12 Monkeys
12 Monkeys is in between seasons. Season 2 premieres on Monday, April 18th at 9/8c.
Original run: 2015 - present
Network: Syfy
Genre: Sci-Fi and Fantasy
Synopsis (also check out the trailer below):
12 Monkeys is based on the movie of the same name. It follows a time-traveler who travels back in time to find and stop a deadly plague which will eradicate most of humankind in the future.
Most recent episode: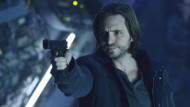 S1E13 - Apr 10th, '15Arms of Mine
Next episode:
S2E1 - Apr 18th, '16Year of the Monkey