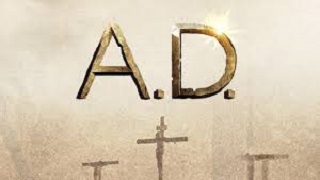 To keep the lights on at TV Watch U.S., we would like to display a small ad here.
Please consider supporting us by disabling your ad blocker. Thank you!
Miniseries A.D. is the continuation of History's miniseries The Bible. It tells the story of Christ's crucifixion and resurrection, and what happens afterwards. His resurrection leaves his friends and family but also important religious and political figures in mayhem. It falls to Christ's disciples to lead his followers and ensure the survival of their new religion.
The happenings in this series are generally well known, as they are the happenings of the Bible. If, however, you are not known with the exact happenings surrounding and preceding Christ's death, A.D. might be hard to understand as they do assume you know this. The story starts with Christ's trial and crucifixion. Peter (Adam Levy, Coronation Street) denies knowing Christ, the High Priest Caiaphas (Richard Coyle, Crossbones) rejoices in his death, and Governor Pontius Pilate (Vincent Regan, Troy) washes his hands in innocence.
What lies behind these happenings is an intriguing political and religious game. Pontius Pilate is trying his best to keep the Roman Empire at the top of the food chain. Thus, the man who claims to be a deity needed to disappear. At the same time, Caiaphas saw Christ as a threat to his religion, and his flock. He feared what would happen if Christ inspired his followers to take up arms against the Romans, and the lives that would be lost if the Romans retaliated. Encouraged by his wife, Caiaphas saw the death of Christ as the only way to save his flock from the bad influences of this – according to him – charlatan.
Although their actions were nothing to be proud of, A.D. does give some insight into why those involved did what they did, or at least what the writers of A.D. saw as their motivation. The fear of losing power has driven many men and women to perform despicable acts, including murder. Even when every following action implies their path is the wrong one, they stick with it. At the same time, the doubt and fear of Christ's disciples leads them to fearfully await his return. The possibility of him not resurrecting and the threat of the Romans and priests hunting them fills their hearts with dread. It shows the human nature that drives their decisions, now and after Christ's resurrection.
Just like its predecessor The Bible, A.D. manages to tell the story of the Bible in a way that gives an emotional background to all people involved. Although the actors are not all settled in their roles yet, they do a fine job portraying the heroes and antagonists of the story. Richard Coyle seems a lot more comfortable in his role as the bad guy than he was in his role as the hero in Crossbones, and Vincent Regan makes an excellent Roman Governor. All in all, the series is as good as The Bible was, and should make for a fine addition to your TV experience.
A.D. has concluded its run after 1 season.
To keep the lights on at TV Watch U.S., we would like to display a small ad here.
Please consider supporting us by disabling your ad blocker. Thank you!